How recent cave diving deaths in Florida can make all of us better divers
Posted by California Diver Magazine on 01/13/2014
  How recent cave diving deaths in Florida can make all of us better divers. Regarded and revered as the "Grand Canyon" of the diving world, the cave system is extensive and notoriously dangerous.  Below the surface of a pond lies more than a mile of passages, one of them more than 300 feet deep. A sign near the entrance to the cave reads: "Cave diving in this area is extremely dangerous. Even life threatening!! Do not dive unless you are a certified cave diver!!", underscoring both the danger involved and the need for specialized training.
Darrin was a certified scuba diver but not certified as a cave diver. Dillon had no scuba diving certifications at all, but had some experience diving with his dad at Eagle Nest. They reportedly chose to go diving to try out some new tanks Dillon had received for Christmas.
According to a police report. A hunter in the area told authorities he saw the father-son duo suited up and ready to enter the water at 11 a.m., but when he returned at 6:30 p.m., he only saw their car and no divers in sight. The divers were subsequently reported missing, a rescue operation was launched that evening, and Darrin and Dillon were later recovered at depths of 67 and 127 feet, respectively, in an large cavernous area known as The Ballroom.  Their dive computers and air gauges indicated both had descended to 233 feet deep and that they had run out of air.
Warning sign for cave divers seeking to explore Eagles Nest Sink.
This story is obviously very sad and even more tragic that it happened on Christmas day. While investigators are no doubt still reconstructing what took place. There are several elements which have repeated themselves in many dive accidents which divers of all levels can learn from. Let's take a moment to review a few critical aspects of training, certification, and experience that all divers should be aware of and how we can learn from this recent tragedy in Florida as it relates to these.
Proper training and early experiences
According to the 2010 DAN Diving Fatalities Workshop, 50% of dive fatalities happened with people with less than 20 dives in the previous 12 months(1). This first statistic is extremely important; it underscores the need for both quality instruction and the importance of those first dives taken outside of training in addition to the importance of diving regularly.  With regards to training, a diver who is 1) ready and qualified to scuba dive (is fit, healthy, comfortable in the water), 2) receives proper, thorough training by an experienced professional instructor, and 3) has successful, safe dives immediately after being certified and who dives regularly is a much safer diver.
Training.
If you're an inexperienced diver, take long breaks between diving excursions, or have recently received your certification. Take plenty of time to regularly review your training materials, practice any skills you're not completely comfortable with in a pool or comfortable environment and plan for some easier dives while you're getting started. Make sure you're comfortable in the conditions you're diving in (visibility, currents, and difficulty of entry/exits, to name a few), and don't be afraid to "call the dive" if you feel the conditions are beyond your experience, comfort, and ability level. Remember that you're diving because it's fun – if you're feeling stressed out, you're not going to have fun and the experience probably won't make you a better diver.
If you're an experienced diver taking a newer diver out for one of their early dives.  Keep in mind that it's very easy to take them into situations that you're comfortable in but they're not. Most student divers will try to keep up anyway, even if it's far outside their comfort zone. It's up to you to help them become better, and safer divers!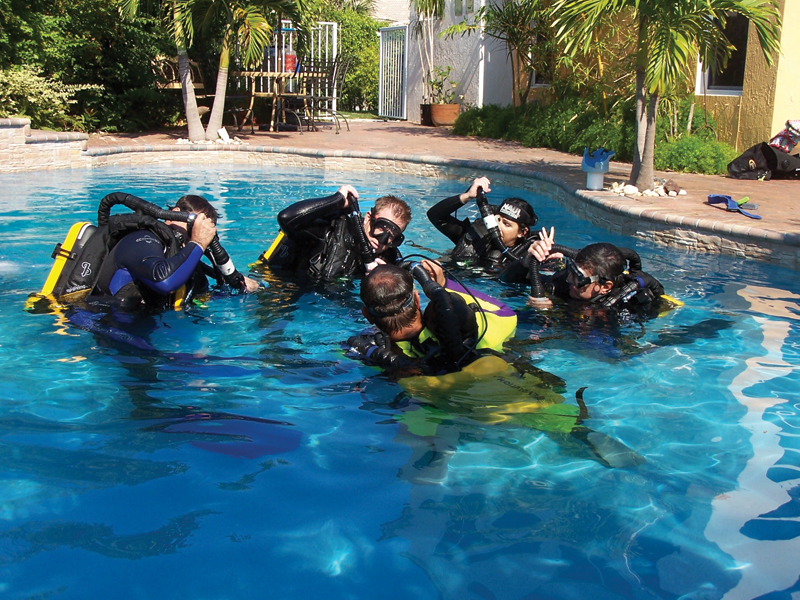 Being a safe diver always begins with proper training, and specialized training for the environment you're diving in. Photo: Jeff Bozanic
Specialized Training
Cave diving is obviously a highly specialized area of diving; certification through the National Association for Cave Diving (NACD) is one of the most advanced certifications available today. Cave diving also requires specialized equipment and training to use it. Many of the divers who have encountered trouble while cave diving have not received proper training and certification under the supervision of an experienced professional.
– See more at:
Summary
Article Name
How recent cave diving deaths in Florida can make all of us better divers
Description
On December 25th, Darrin Spivey, 35, and his 15 year-old son, Dillon Sanchez, went cave diving in an area known as the Eagle's Nest Sink in northwestern Hernando County, Florida.
Jupiter Dive Center